The Sinking City – Day One Edition – PC (Voucher in Box)

Duik in de duistere wateren van een gevaarlijk onderzoek in The Sinking City, geïnspireerd op de meester van de horror: H.P. Lovecraft.

Oakmont is half overspoeld en bevindt zich in de greep van bovennatuurlijke krachten. Je bent een detective, en je moet de waarheid achterhalen van wat de stad heeft bezeten… en de geesten van haar inwoners.
The Sinking City is een avonturen- en onderzoeksspel dat zich afspeelt in een open wereld, geïnspireerd op het universum van H.P. Lovecraft, de meester van de horror. Het spel is ontwikkeld door Frogwares, een studio die vele prijzen heeft gewonnen voor de Sherlock Holmes-serie.

De game download je via de Epic Games Store.
The Sinking City Day One Edition bevat:

Een onderzoekerspakket met daarin een detective-outfit, toegang tot EHBO-dozen en antipsychotica + een vooraad startmaterialen. Daarnaast ontvang je een fysieke kaart van Oakmont.
Kenmerken:

Een beklemmende sfeer en verhaal geïnspireerd op het universum van H.P. Lovecraft

Een uitgestrekte open wereld die te voet, per boot of in een duikpak kan worden verkend…

Hoge replay-waarde dankzij een open onderzoekssysteem: elke zaak kan op verschillende manieren worden opgelost en heeft verschillende mogelijke eindes, afhankelijk van wat je doet

Een wapenarsenaal uit de jaren twintig om nachtmerrieachtige wezens mee aan te pakken

Beheer je geestelijke gezondheid om de waarheid achter de waanzin te ontwarren

De beste gaming producten vind je met korting bij PocketCubes
Specificaties:
The Sinking City – Day One Edition – PC (Voucher in Box)
| | |
| --- | --- |
| Merk | Bigben |
| Platform | Windows |
| Genre | Actie |
| Speleditie | Limited Edition |
| Personage | Geen personage |
| Gesproken taal | nl, en, fr |
| Format | Code in a box |
| EAN | 3499550376890 |
| Doelgroep | Fanatieke gamer, Vrijetijdsgamer |
| Minimale leeftijd | 18 |
| Inhoud leeftijdsindicatie | Angst |
| Splitscreen | Nee |
| Aantal spelers offline | 1 |
| Regio | PAL |
| Retour- en annuleerbeleid | Klik hiervoor op Retourneren onderaan deze pagina |
| Verpakking | Amaray |
| 4K-gaming ondersteuning | Nee |
| Fabrieksgarantie termijn | 9 maanden |
| Gewonnen prijzen | geen |
| Oorspronkelijke releasedatum | 2019-06-27 |
| Reparatie type | Carry-in |
| Speltype | Horror |
| Talen container | nl |
| Verpakking breedte | 13.50 cm |
| Verpakking hoogte | 19.10 cm |
| Verpakking lengte | 1.40 cm |
| Virtual Reality mogelijkheden | Niet geschikt voor VR |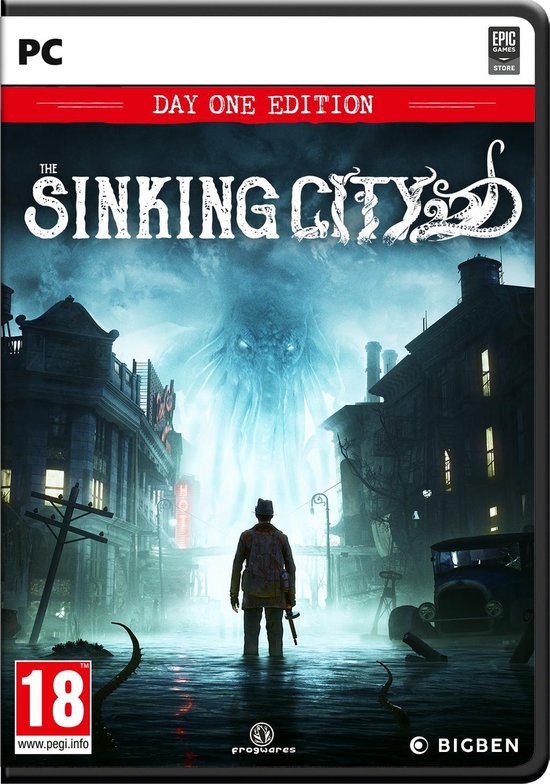 The Sinking City – Day One Edition – PC (Voucher in Box)